Feed.biz implements Amazon FBA features (Fulfillment by Amazon)
Overview
This allows the merchant to benefit from storage provided by Amazon, then Amazon sends with advantageous conditions products from orders directly from its warehouses, which makes the end customer receive his products faster, so FBA is also a vector of increase in conversion rate on Amazon.
Beyond shipping a product purchased by a customer from a merchant on Amazon and shipped by Amazon, Feed.biz also manages "multichannel".
With multichannel, it is possible that a product stored in Amazon (AFN) is purchased on a third-party channel, it can be the merchant's shop or another marketplace and then shipped by Amazon.
So seamlessly to the merchant, if multichannel is enabled and a customer orders a product that is eligible for shipping by Amazon (since stored at Amazon) on eBay, Feed.biz will trigger automatic product shipping for the order deemed paid at eBay directly by Amazon.
Thus, the merchant is not in charge of nothing; the order is placed on eBay by a client, Amazon ships the product and even manages returns, if necessary!
Fonctionnements
Stock management
It is possible to define two synchronization strategies on Feed.biz;
Two different stocks; the merchant has its own stock of products that he can ship but also an FBA stock stored at Amazon. In this case Feed.biz automatically notifies Amazon to sell products shipped by Amazon (AFN) and to ship the products available from the merchant (MFN) , it is called automatic switching AFN/MFN.

One stock at Amazon (AFN); Feed.biz automatically updates the stock at the shop; it retrieves stock movements at Amazon and updates the stock of the shop. Thus, inventories at Amazon are distributed on the shop and also other marketplaces; therefore, stocks available at Amazon are for example reflected on eBay.
FBA fees management
Amazon FBA creates additional costs for the merchant. The Feed.biz automaton automatically collects this information from Amazon and allows, via the configuration tool, to pass on all or part of these costs on the product sales price.
It is therefore possible to pass on the actual costs of FBA on the price of the product, part or all,shipping costs and even apply an increase;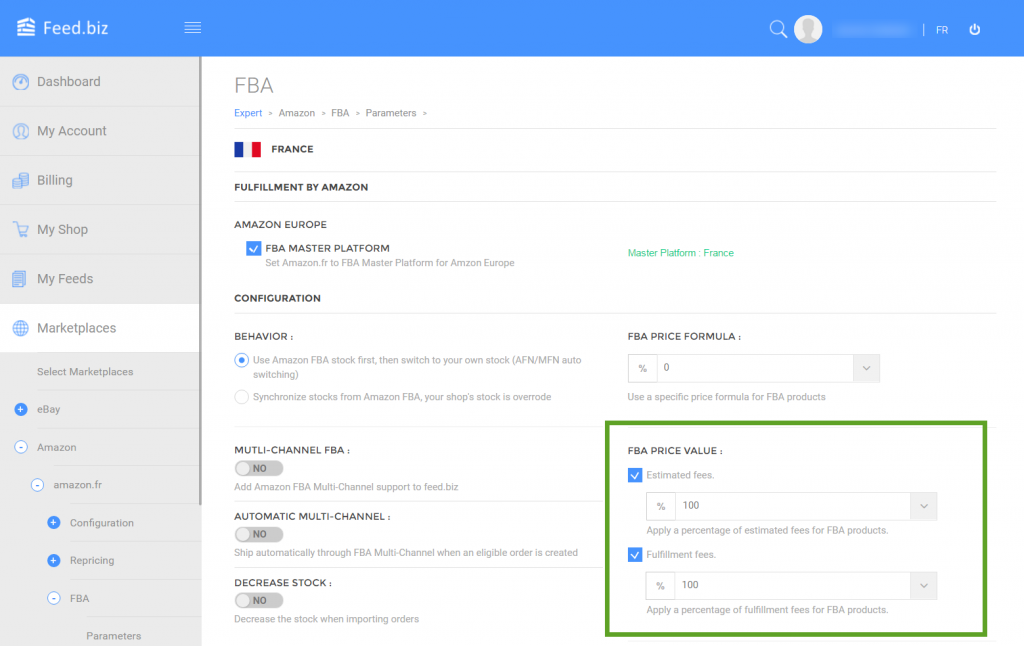 Multichannel
It is possible to activate the multichannel only, automatic multichannel. The difference is very simple; multichannel allows you to choose which order will be shipped by Amazon, automatic multichannel will systematically and automatically trigger shipping by Amazon for any eligible order.
With automatic multichannel, all orders placed off Amazon, at the shop or on any other marketplace will result in shipping by Amazon automatically triggered by Feed.biz
If automatic multichannel is not enabled, shipping by Amazon triggering is done manually, but very easily;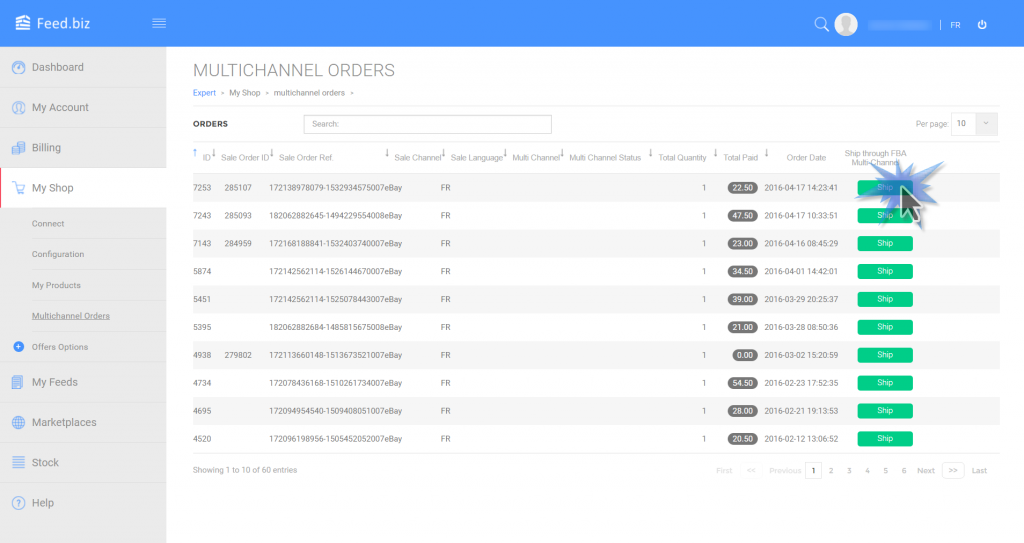 At the shop level, it will be indicated in red not to ship the order, as it's shipped by Amazon and the order will have a special configurable status, eg "Shipped by Amazon".
Multicountry
FBA management works globally across all Amazon marketplaces, in Europe, the USA, Asia etc.
Feed.biz automatically prompts for shipping the product from the closest Amazon marketplace to the end customer.